We started in 2009 as a start-up located in a basement with no knowledge, experience or resources. The only thing we didn't lack was enthusiasm and persistence in pursuing our goal. The goal was clearly defined, though – to create a place that allows you to design and create a perfect T-shirt.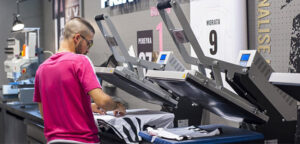 From the very beginning we had a print designer -(probably the first one on the market), in Polish we call it Kreator, hence the name kreatorkoszulek.pl. Of course it wasn't perfect, but we were pioneers in this field. The current website runs the 4th version of the designer. Each version has been improved and was created with our clients in mind, to give them a simple tool to design their own project.
Our machinery was evolving together with us. We started with simple thermal transfer printing, after about 2 years we bought our first DTG printer, then we bought a better one, and now we have 2 of the best DTG printers on the market – the Brother GTX printers.
We don't really want to become a big company, we want to be just right. Small enough to approach each customer individually and big enough to fulfil bulk orders.